Frost Finery Jewelry Studio
Frost Finery jewelry studio in Pittsburgh is the creation of owner and shine maker Melissa Frost. Melissa crafts every piece using a combination of hi-tech and handmade methods. This mix of metal laser cutting, 3d design and traditional metal-smithing practices embraces the present with a respect for old and new techniques.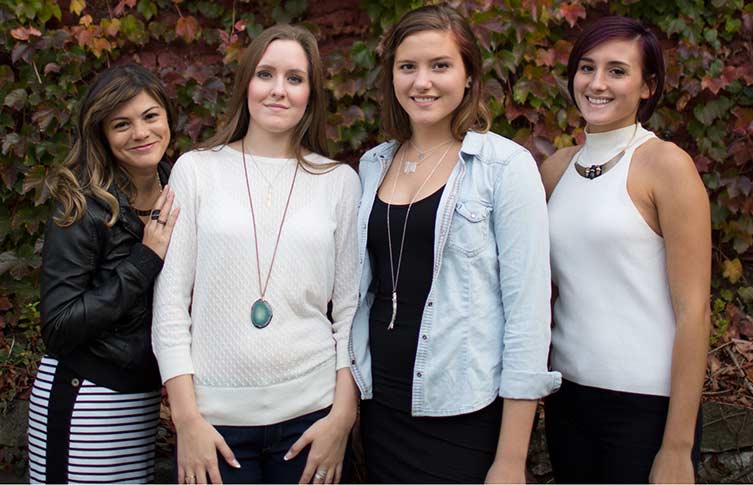 Pittsburgh is home to Frost Finery Jewlery Studio where creating staple pieces that can be worn every day is the mission. The addiction of melting, hammering, designing and lasering metal into beautiful gifts is the undertaking of boss lady Melissa Frost.
Frost Finery goods are birthed from a city known for its metal work. Reinvigorated with modern design and technology, this hybrid studio is proud to honor the rich history of metal work while taking advantage of new tools.
Every design starts off as a sketch. Then they're prototyped by hand or modeled in 3d software to make sure sizing, fitting and durability are spot-on. Fabrication follows at Frost Finery home studio in Lawrenceville, Pittsburgh and also at the Society for Contemporary Craft and TechShop for more heavy duty torch and water-jet and laser-cutting action.
We are proud to adorn fellow design and fashion-lovers. Our fashion choices are more than a look – they express our ideas, they way we live, what's happening, our emotions, and our personality. The Frost Finery arsenal is here and we're excited to see how you blend it into your unique style of self-expression. Most of all, we hope that every piece reminds you of something thing, some place, some one or some feeling to be thankful for.
---
Frost Finery in the Press
Frost Finery is turning heads. Here are some of the places Frost Finery has been featured:
---
Much Love
Pittsburgh is home to Frost Finery because Pittsburgh is full of open, giving, smart people and organizations. Shout outs and big hugs for those making Pittsburgh a place we're proud to call home.
Zoe Frost
Zanya Frost
Meghan Frost
Becka Vactor
My Awesome, Supportive Friends & Family